Interview: Alison Kery-Hanewicz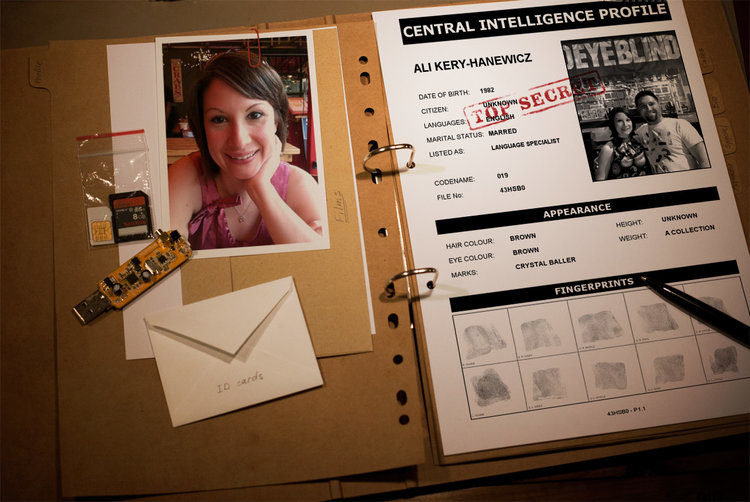 Our Expert of The Week Ali Kery-Hanewicz, is an admin and lead of Editorial for 3EB Lifestyle.
She is also a featured writer and contributor.
Ali shares how two Third Eye Blind songs took on a deeper meaning after she experienced two tragic losses.
Lisa Murphy: Third Eye Blind fans are all ages, some are brand new and some have been there since day one. How long have you been "in the blind?"
Ali Kery-Hanewicz: I have been "in the blind" since I was 16 years old when I first heard "Semi-charmed life" on the radio. Of course I had no idea what the song was about, but I was hooked!
LM: Do you or have you created any Third Eye Blind inspired art or writing?
AKH: I have written a few pieces for Lifestyle as well as reflected on a number of songs through my "Soundtrack to my life" pieces. While writing these pieces I have connected to the lyrics in a much deeper way. Writing articles for Lifestyle has been cathartic for me and has helped me deal with emotions I was keeping buried inside. Through exploring the lyrics I have come to know myself better, and have been able to find closure for certain traumatic events in my life.
LM: It's the 20th Anniversary of the Self-Titled album. For many, some of the songs have changed in meaning over the years. Do you have one song from that album that has really grown up with you, so to speak?
AKH: There are two songs whose meanings have changed greatly over the course of my life, one is from "Self-Titled", and one is from "Out of the Vein." Those two songs are "How's It Going To Be" and "Crystal Baller." I have always loved both songs, but they both took on a deeper meaning when I experienced the loss of two pregnancies. When you're expecting a child you make all of these plans, and have all of these hopes and aspirations for your life, and then suddenly they are all gone, and you are left with all of these questions. One of the biggest questions is "How's It Going To Be" now that you will never know that child, or what life would be like. The lyrics in that song perfectly encompass what it feels like to lose someone who was such a big part of your life. When I first heard "Crystal Baller" a few lyrics stuck out to me for the same reason. "A footnote in your dance of days" makes me think of how I want to remember these children I lost, I don't want them to just be a footnote in my life. Another lyric "I wonder why the wind keeps blowing you through my mind" also resonates with me for the same reason. There is a reason certain memories seem to randomly pop up, I believe it is because they are important in the moment and they need to be recognized . Read
LM: Is there one particular 3eb concert that stands out to you from all the others? Why?
AKH: Of course all 3eb concerts are amazing, but the one that really stands out for me is the one I went to from "The Summer Gods" tour. This was the concert where I "found my people" and really connected with the fans. After I got home from the concert I posted on social media and connected with 3eb Lifestyle. Since then I have been blessed to become an active member of Lifestyle and connect with people who love the band as much as I do! I started with interacting with fans on social media and posting video of the day, and moved on to editing and recently became an admin. If it wasn't for "The Summer Gods" tour I would have never been able to connect with all of the passionate fans, or make the friends I have met through Lifestyle.
LM: If the band offered to let you perform with them, what part would you want to play? What songs would you want to sing?
AKH: I would totally want to sing and just belt my heart out! I'm not promising that I would be any good, but I did used to sing in elementary and high school, and at my last job! I would love to sing any song, but "Crystal Baller", "How's It Going To Be", and "I Want You" all have a special place in my heart, and of course I would want to sing "Semi-Charmed Life" the song that started it all!
LM: What is the greatest thing that being a fan has brought into your life?
AKH: The greatest thing being a fan has brought into my life is being able to "find my people" and support the band through working with Lifestyle! As part of Lifestyle I'm able to express my creative side as a featured writer and contributor, and also act as an admin and head of editorial. If you had asked me 20 years ago when I first heard 3eb if I thought I would be connected to other fans and working to support the band on this level I would have never believed it! I am truly blessed to have become a part of Lifestyle!
LM: If you could travel with one member of the band, who would you choose? Where would you like to go?
AKH: This is a tough question because I would love to travel with any of the guys. The obvious answer is Stephan, because who wouldn't want to travel to a warm, tropical location, learn to surf, and have amazing intellectual conversations over drinks. However, I think I would also love traveling with Kryz to Japan and learning more about the culture while flying drones and discussing "Hello Kitty". Either way I think I would have an amazing time and learn a lot!
LM: You're trapped in an elevator for 1 hour with Stephan Jenkins and he offers to play you two songs... what would they be?
AKH: This is so tough I have so many I would like to hear! I would love to hear "Crystal Baller" because I connect so deeply with that song, but I would also want to hear "Blade." I never really liked "Blade" or connected to it until recently, but Stephan's voice is just magical when he sings it. If I got a third choice it would "Everything is Easy" or "All These Things" actually could I just hear everything off of "Dopamine"? Everything on it is amazing!
LM: If you found a magic Third Eye Blind Lamp, and a semi-charmed genie popped out, and you could make three Third Eye Blind related wishes, what would they be?
AKH:
My first wish would be to go on tour with the guys for a month, I think that would be an awesome experience and I would really get to know the guys well. I wouldn't want to be a freeloader so I would offer to help with whatever, cleaning, dog-sitting, roadie, gopher, therapist, security ( I'm stronger than I look), etc, anything to help make the tour run smoothly.

My second wish would be for free concert tickets for two shows a year for me and a group of friends. I don't want to be greedy, but if my friends happen to be the only ones at a small intimate show that would be cool too.

My third wish would be for the guys to keep making music for as long as it makes them happy. Their music has touched so many of us in such positive ways that I wish all of them the best and want them to be happy and successful. If it comes to the point where music no longer makes them feel fulfilled I hope they find whatever they are looking for.