Interview: Liseli Thiele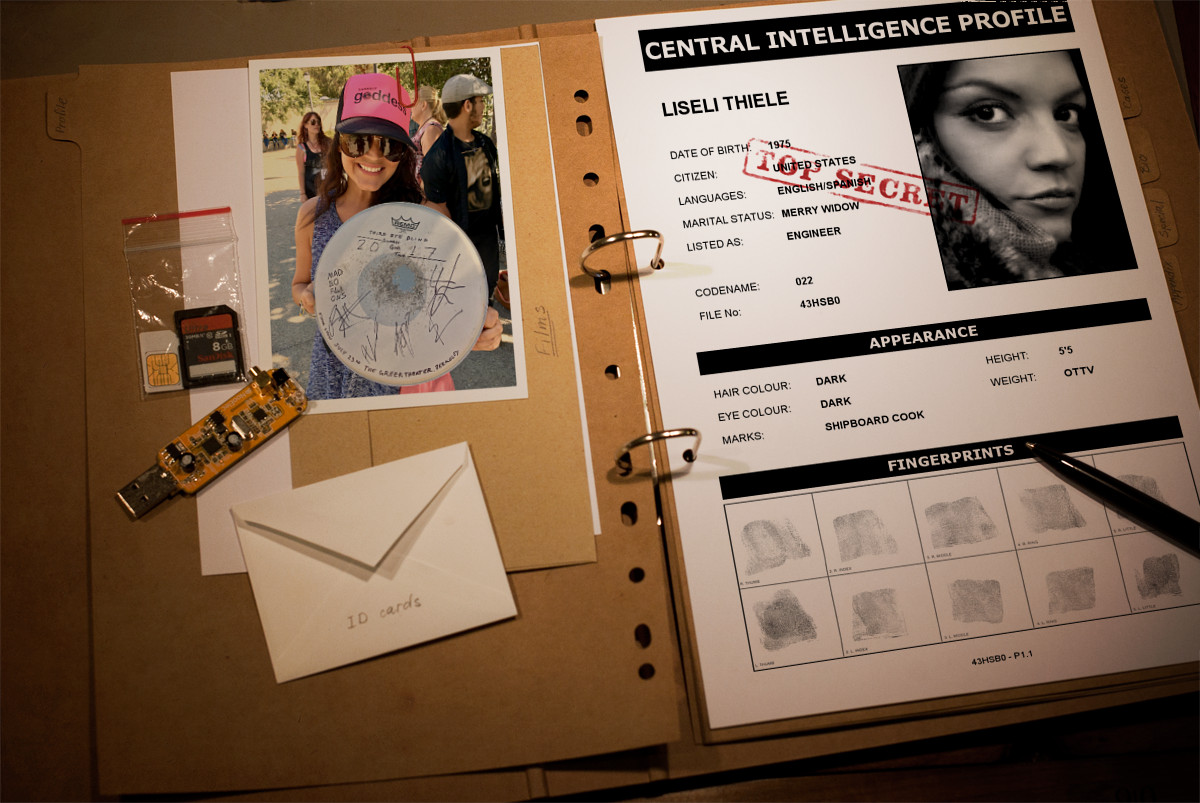 Do you or have you created any Third Eye Blind inspired art or writing?
When I first started Expert of the Week, the goal was to get to know the members that had joined a project group that I started on Facebook back in December 2016.
If you would have asked me back then if I could imagine answering these questions today, I would have never believed it.
After a few interviews, many of the members of my team, mentioned that other fans were labeling us as an elite group and that we were full of ourselves. After giving it some thought, I kept going, honoring the fans of the third eye blind community each Friday. I began to see the beauty of the fan base with every interview that was done. Most of the readers already know where I come from and have been following the stories, and the social media. If I were on the outside looking in I probably would think I was pretty lucky and assume that this was all about ego and celebrity fandom. But it isn't. 3eb to me is family, as well as healing and a connection with individuals that understand me. Some don't judge, others do. And it wasn't easy making friends in any of these Facebook groups. I was often discouraged from posting, or asking questions. But I slowly found a group of creatives that would encourage me to keep going with sharing my story. I have always considered myself a Misfit.
So many people have made true friendships through Third Eye Blind and their music. I know that includes you. Any new besties from this year?
As for besties, I really enjoy the company of strangers that Lifestyle is made of. And I am grateful for the dedication and loyalty that my team has given, even through they have been mistreated as well because they are a part of this project group with me.
What's your favorite line of the Mission Statement and why?
We have eyes and a voice so no surprise when we we speak up!
And I am very glad I have pressed on, even through I have been judged and slandered for believing in something. What I have witnessed is very sad during times where we need to be people that embrace others, and their story and not just sit back in chat rooms, sharing screenshots and mocking one another. There are many people in the community who are full of love and who truly live a lifestyle based on that Mission Statement that Third Eye Blind is founded on. The hate doesn't affect me now as much as it did in the beginning. I know and understand that its not about me and they are on a journey and if they continue to spread vicious lies, it will only make them look bad. I will not quit telling my story and sharing how the music of Third Eye Blind has played a major role in saving people from this world and all the trials that it comes with.
Third Eye Blind fans are all ages and some are brand new and some have been there since day one. How long have you been "in the blind?"
I met my high school sweetheart when I was 15, a sophomore. And this boy was quite the catch. I was the president of the New Kids On The Block Fan Club in High School, and the world was just beginning for me. I was that girl that was not allowed to use the phone during the week, watch any TV either, and my parents had just moved us from Brooklyn to this 7 acre home in Cortlandt Manor, NY. I broke all the rules, one day my dad found out that I was sneaking over my boyfriend, shit hit the fan and I ended up getting sent away to boarding school. Fast forward two years later, I see that same boy, and I end up pregnant at the age of 17.
In 1995, I decided that New York was not working for me, so I applied to the Academy of Art College in San Francisco for Motion Picture and Television. My son at that time was 2 and my parents thought that it was a great idea because I wasn't being inspired in NY. Christian, Garvin's dad, was dating other girls and that was ok, because I would do the same in SF, and I did. After seeing that no one would match up to the love that we had, Christian decided to ask me if he could come and stay with me at my apartment around Haight Street. We got married in 1996 and were both now enrolled in school and working full time at the House of Shield on Market and Montgomery.
Like most young struggling couples, we fought and our fights would be pretty hardcore. Chris was a big fan of poetry and he would also spend hours on our roof top. I remember in one particular instance after a fight, I walked in the house to the "Self Titled" album spinning "How's it going to be" on repeat with a note telling me how much he loved me but how difficult it was with all the demons he was dealing with (that is my first real encounter with Third Eye Blind).
"Semi-Charmed Life" reminded me of the life I led to the tee, and I even used that song to edit my sister's Sweet Sixteen Video too, showing clips of her experience drinking. Third Eye Blind was a cool band with a cool album, but I never really listened to every song.
On April 2, 1999, a Good Friday, my husband and I, along with a few friends decided to go to a grand opening of "Big Heart City" on Market Street and that night my husband decided to take 2 handfuls of Mushrooms and trip out. At about 4:45 am, he found himself on our rooftop, on 299 Cole Street, battling what to me seemed like something straight out of a movie. And right in front of me he took the plunge. And fell right on Fell Street in the middle of Cole Valley.
He was in the ICU for 5 days at SF General and I couldn't make sense of it all. On April 7, 1999 when he died at a 22 heart beat rate at 8:45am I felt him and his soul go right through me.
Let's backtrack. You guys have all seen JUMPER. That was the scene, the exact scene that played that night. And on that rooftop he made two very powerful statements. He said, "You and Garvin would be better off without me" and "Forgive Me Father."
Have you had a major point in your life that 3eb has helped you through it and how?
Returning home on April 7, I ran into my room and for whatever reason that prompted me to look at a bottom drawer into a notebook, where there was a letter he had written three months prior...(a letter that was given to Stephan later who happened to be our neighbor all along). Now I come to find out that it was Janis Joplin's old place. (read article)
The only thing his family and I could play through this entire morning was this CD. Self Titled. There we were able to find revelation with his own writing and Stephan's that made sense for the pain Christian felt. He would constantly play this record on repeat and I never once paid attention to what it was saying.
I was an angry girl. I didn't want to know nothing about nobody and my six year old had to witness me drunk, incoherent and a mess playing this album from some band that might have just been a one hit wonder at that time, to try to piece together the life lost on that Easter. So at this point, I didn't want to know about God, only wine, and I would then decide to move after getting a job offer here in Los Angeles. (read article)
Tell me about your first 3EB show. What was it like?
Moving to LA was the worst thing I could do, and so I would at that point keep both my SF place and the LA one just because I could do whatever I wanted, that is the invincible voice of self-inflicted pain. I would travel back and forth on that 101. That is when I heard the announcement for the KICK OFF of Third Eye Blind. I remember so clearly, my expression was not because they were a bad ass band, it was more like I was going to see what this band was really about, and see what my husband saw in it. To my surprise I see the famous Stephan who looked like someone I knew very well. I am talking about gestures and mannerisms, and I found myself looking at my son and he shook his head with that expression confirming that it wasn't just me. My son was the first kid they brought to meet Stephan and they made everyone stand back while my son was introduced to him and a few photos were taken (those photos are in NY in my friend's basement). That is the night that I asked Stephan about the song where the hospital sheets and the head and he looked at me and said "it's about a friend of mine." (read article)
That night I also noticed that there was a street address on their music equipment and I told my girl, wait that says Cole street, and so when we got to SF the following day we went by the address and what do you know...there is Stephan with his dog and his motorcycle. Now I am like thinking this man is never going to believe that we are neighbors and he is probably going to think I stalk him. So I just grabbed the kids and I don't know why I ran up to Stephan and said, "Here hold on to this, it's a note my husband wrote three months before jumping off that building, and hopefully one day we can collaborate on something." He smiled gave the kids a high five and that was it.
My son had gotten a dog that summer, and he named it Blu. Third Eye Blind came out with Blue that November and that entire album was like a download from heaven for me. From each song I can grab each line and put memories of my husband and I to it, which I know now that everyone can relate to. The fact that the dog was named Blu was just a trip of its own.
During the years I have bumped into Stephan several times, at decompression, around town etc. and have gone to shows in CA and NY. I got the chance of being at a show in 2008 on his birthday.
The other albums to me, as they were put out, were like love letters from heaven to me. Three years ago, I faced a battle where I had to fight it with the word of God, and that battle was against the devil himself, where he tried to come after my kid in the form of prescription pills. So I stopped music and everything else, and I put everything on hold and got really close to the word of God.
My son survived two comas, brain surgery, dialysis and he also had to learn how to walk twice, almost got his legs amputated and well let's just say he is a miracle from God. While we are fighting this, the day of the May 17 strokes, 3eb finished Dopamine, and the day of my son entering the Dreamcenter, 3eb releases Dopamine.
And there are songs on there that I was like OH wow, they played SB where my son went to school, on the day of my husband's Anniversary. I went to the show and was invited backstage and it was a real sweet full circle after the fact that I got out of the pit with the devil.
What is the greatest thing that being a fan has brought into your life?
I was on this journey alone, I would go to shows with my sister. I tried to explain the irony of all this to someone who didn't understand Third Eye Blind, I would just end up frustrated and lost. I have always wanted to be a writer and one day write a book, or a movie. Hope, is the first thing that Third Eye Blind has given me. Endurance is the other thing that I would have to mention, knowing Stephan's journey, and having him speak bold, while giving zero f--ks what people talk about you, has allowed me to run this race. And Purpose. Even if I share my story and it touches one person, I have done what I was called to do. If I can encourage and motivate others to reach for their freedom while revealing the inner most being of my soul, then I am ok with it.
If you could only listen to one song by Third Eye Blind for the rest of your life, what would it be? Why?
It use to be I Want You, until Dopamine came out. Then when I heard Shipboard Cook, I almost fell to the floor. It had been 6 years since the last release and this message to me was so clear. I needed to let go of that whipping post. This art made by Bridgett Colson has been a confirmation of the visuals that go through my head when I listen to the music. These characters and the story line are identical to mine, and its a powerful sense of awareness that I never had before, or perhaps that I never allowed my self to be exposed to. This is why I continue.
Third Eye Blind is more than a band for me, Stephan has tapped into a gift and a talent to be able to produce music like this. And I am so grateful that they are going strong and recording and performing. This is another reason why I feel the need to go to as many shows as God allows. One day this will all be a story, just like SJ preaches on that stage.
This past weekend I had the honor to celebrate my birthday in San Francisco. To witness fans communicate with Stephan brought this entire creative platform a deeper meaning for me. I am grateful for that.
Is there one particular 3eb concert that stands out to you from all the others? Why?
They have all been magical for me, but I think the one that takes the cake has to be the Chapel. Being in that venue and meeting everyone, was special. Stephan calling on me to help with his cake and Jumper not being on the set list and having them perform it, was supernatural. (See Video)
What does living a "3eb Lifestyle" mean to you?
There is no wrong or right answer to this, but it is definitely something that can't be forged. It has to come from within. Its a certain level of vulnerability that allows people to see your true face. It's about being the outsider and understanding that the lyrics of the music are there to carry you along in life. Its about being ok with crying and the past and at the same time seeing the best in people and forgiving those that want you to fail. And its about loving the current line up and appreciating the energy that Stephan gives while performing and recording, not demanding more, and allowing time to be a factor. Its about embracing other people's talent and being patient with people, and communicating with each other. It's about giving people chances. The journey in the blind is not an easy one, but it is very rewarding.
MADBLINDLOVE